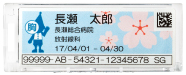 Radiation is used in various fields: medicine, research,and industry.
To provide security and safety to the people who work in these fields, our Company provides a personal dosimetering service, which sends out badges (personal dosimeters) at regular intervals to our customers,receives the badges after they have been worn for a certain amount of time, and provides the results of the radiation measurements recorded on the badges. This service by Nagase-Landauer is now being used by more than 200,000 customers.
The Landauer Group has now developed a new personal dosimeter, the "Luminess Badge", which has set the global standard in personal dosimetry service.
It uses OSL technology, which is in use over 100 countries globally. It is a personal dosimeter that comes in brilliant colors and designs, but is environmentally friendly with its use of a recycling system.
The features of OSL Dosimeter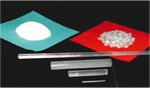 Because it uses LED light for measurment,it has low depletion and is able to be analyzed repeatedly to confirm the measurement.
Because it uses oxidized aluminium, an extremely hard substance, it is shock resistant, meaning that it is very stable and reliable,even if dropped.